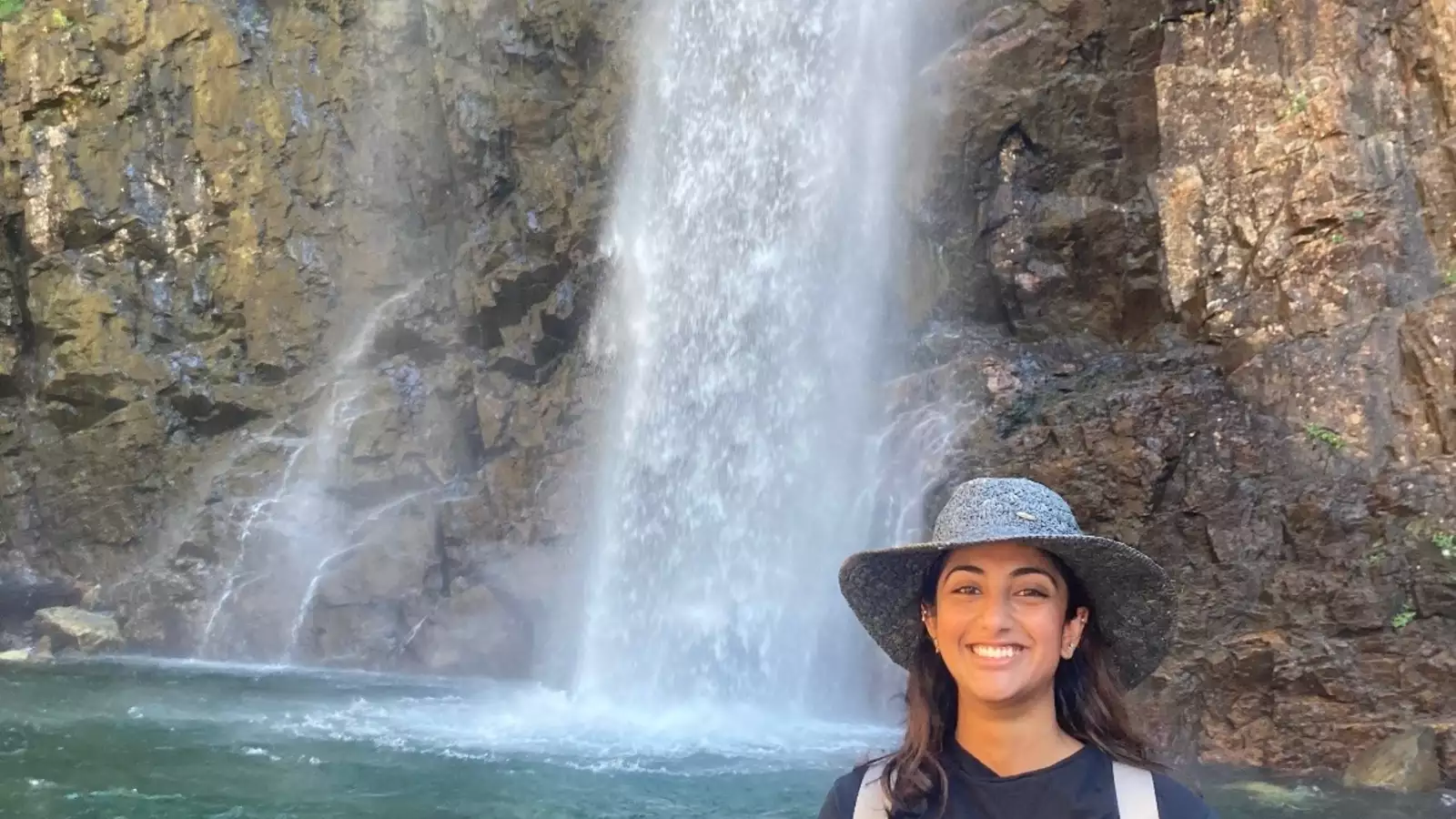 I think that Barnard is a school that pushes us to try new things. [I have taken] a lot of interesting classes that have led me to have diverse niches in my academic study.
The bond between nature and humans was not always so fractured. The decision to protect the planet was not always up for debate. On the northern fringes of the Himalayas, neither the fracture nor the debate exists. Instead, people there are partnering with nature to care for the earth.
Lining the ecologically sensitive desert-mountain of Ladakh, India, are ice stupas — human-made "artificial glaciers" designed to store winter water for agricultural use during planting seasons. The ice stupas, which are necessitated by the high-altitude region's shrinking glaciers and water scarcity caused by climate change, are a localized response that Tanisha Reddy '24 calls "[an] integration of Indigenous place-knowledge."
Reddy, an anthropology major on the political ecology track, will travel to the Leh and Phyang regions of Ladakh as a Tow Summer Research Fellow to work on her senior thesis, "Buddhist Environmental Ethics: Climate Adaptation and Activism in Ladakh." She will partner with the Himalayan Institute of Alternatives, Ladakh (HIAL) to work on climate adaptation initiatives concerned with ice stupa formation, sustainable tourism, and community education projects.
"A class called The Environment, with Sonia Ahsan [of Columbia's anthropology department], had an interesting unit that focused on spirituality and religion in the context of climate change [that] sparked my initial interest in Buddhism and climate change," said Reddy.
Guiding Reddy's project are Ladakh's Mahayana Buddhist traditions of interdependence, awareness through meditation, and nondualism — principles that call for a rewriting of the harmful ethos that underlies the climate crisis, while encouraging an alternative approach that creates harmony between humans and the planet.
In this "5 Questions With ..." interview, learn how Reddy plans to use her time living on a Ladakhi farmstay to better understand the interplay between Buddhist teachings and environmental solutions for her senior thesis.
What brought you to anthropology, and how did this lead to your project?
My current advisor, Paige West, recommended the political ecology track based on my interests academically and the flexibility of its curriculum. I am able to take a broad range of interdisciplinary classes that engage various parts of my interest in climate change, social justice, and anthropology. My project idea stemmed from when I began to think about topics for my senior thesis, and with the Tow Fellowship, it ended up becoming much larger.
The Tow Fellowship is providing me [with] the means to conduct research this summer that will culminate in my senior thesis. I will travel to the Leh and Phyang areas in Ladakh to work with HIAL, as I learn more about local climate adaptation projects and "patchy" solutions. These kinds of solutions are highly localized and tailored approaches to climate change and are incredibly important in creating lasting and successful solutions.
What led you to connect Buddhism to planetary action?
My interest in the concept of Buddhist environmental ethics originated from when I read academic papers in the process of doing research for my final project for David Kittay's class "Interpreting Buddhist Yoga: East, West, and Quantum." I was really interested in the idea of how religion and spirituality — particularly Buddhism — can be used as a tool for climate action and climate change solutions.
This class is what helped me gain an introductory yet nuanced understanding of Buddhism, which I was able to connect to my interest in the environment through my final project. Taking what I learned, I plan to have conversations through oral history-styled interviews with willing participants of the Ladakhi community to learn more about their involvement in climate adaptation projects, the effects of climate change [that they face], and how Buddhism might influence [their] relationship with nature. I will use my understanding of Mahayana Buddhism, complementary academic papers, and anthropological theory to create my senior thesis.
How will your project be part of the larger dialogue surrounding the climate crisis?
What has been extremely clear, especially in the past couple of years, is that there is a deficit in the integration of Indigenous knowledge in climate-related conversations. I find that the integration of Indigenous spirituality, ethics, and religion can be a very interesting lens when looking at the climate crisis.
Particularly when it comes to climate solutions and action, patchy and localized solutions that are oftentimes entwined with these overlooked Indigenous knowledge forms are the most successful and impactful solutions — this is what I want to bring into the conversation.
What makes environmental ethics different from other types of climate crisis mitigation initiatives?
I think that most climate action requires a great amount of resilience and buy-in. Environmental ethics, to me, is a way to reframe climate action into a spiritual, faith-based, and even a justice-oriented perspective that I [believe] can help create more of that resiliency and buy-in.
How has Barnard's commitment to a climate action vision played a role in your own environmental activism?
I think that Barnard is a school that pushes us to try new things. [I have taken] a lot of interesting classes that have led me to have diverse niches in my academic study.
Barnard's commitment to climate action and a planet-forward dialogue has created a community that is dedicated, whether directly or indirectly, to creating positive change. Fostering that kind of care or ethic is one of the most important pieces in driving action. I think the integration of climate justice into the ethos of the school, as well as the numerous environment-related classes and faculty, is also incredibly influential, engaging, and empowering for me.