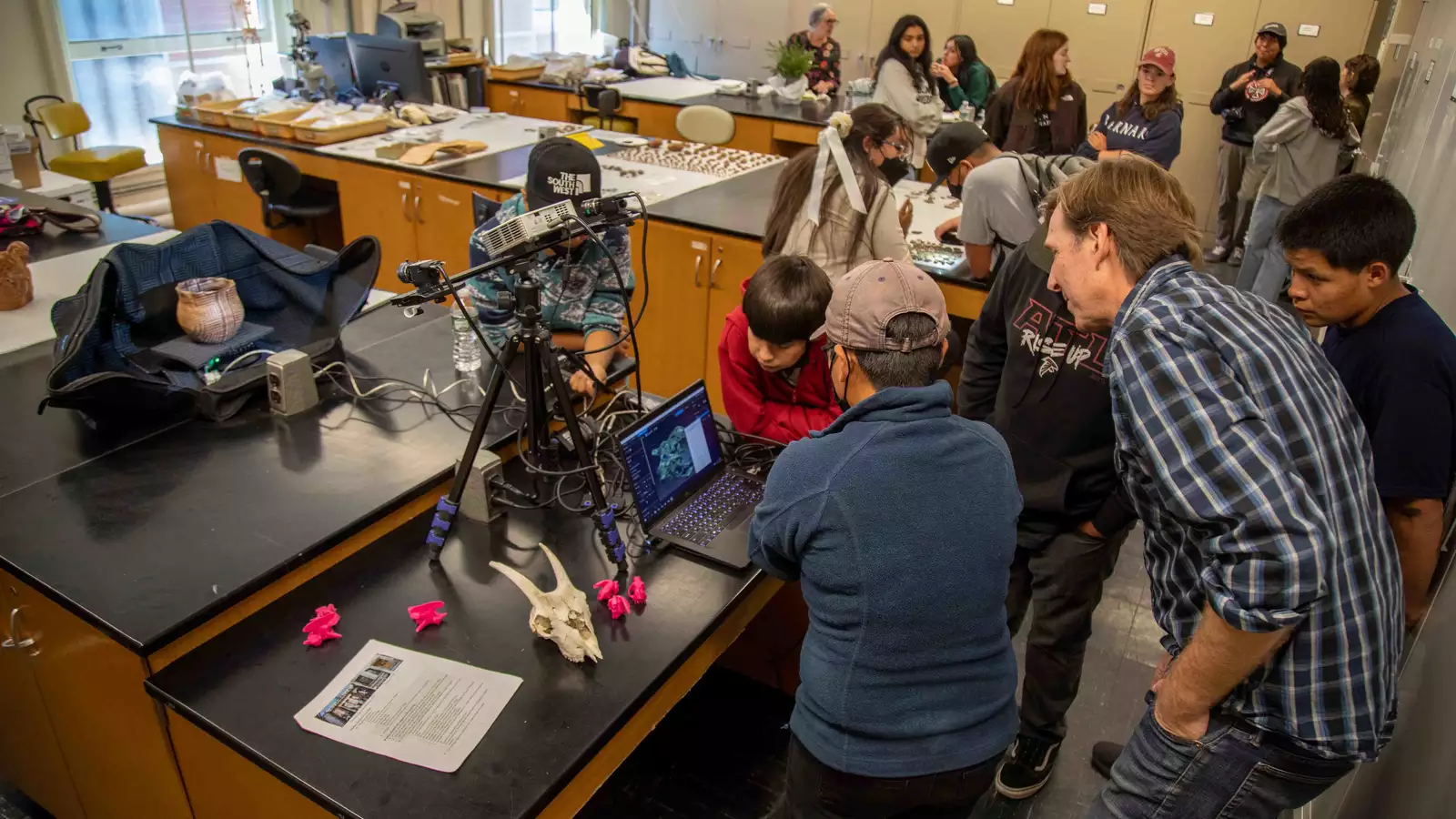 During Barnard's celebration of Indigenous Peoples Day on Columbia's campus earlier this fall, Provost Linda A. Bell said that a Native American and Indigenous Studies (NAIS) minor and concentration was a "substantial [and] key step in the progress that has been realized as the College's community rises together to celebrate Indigenous people."
Provost Bell was speaking about the College's new minor — housed in the Consortium for Critical Interdisciplinary Studies (CCIS) — that will offer students an interdisciplinary dive into Native American and Indigenous intellectual traditions and help to expand conversations surrounding sovereignty and ecological caretaking. 
The concentration is a result of collective efforts among multiple faculty members and threads together several areas of study — American studies, anthropology, art history, ethnomusicology, and religion.
Learning Locally and Thinking Globally
NAIS director and assistant professor of American studies Manu Karuka — who centers his work on a critique of imperialism, with a particular focus on anti-racism and Indigenous decolonization — noted that New York City is home to the largest urban population of Native Americans and Indigenous people in the U.S. This affords students in NAIS a distinct opportunity to engage with their subject both locally and globally.
"To think locally, NAIS demands attentiveness to the significance of place by studying Manhattan, for example, as part of the traditional territories of the Lenape Nation," explained Karuka. "Harlem, in particular, has a rich and specific history of Indigenous presence through African American, Caribbean, and African migrations. In terms of thinking through global inquiry, NAIS [encourages] students to consider relationships between local specificity and broad patterns of Indigenous politics, philosophy, and resistance." 
Students in NAIS will engage actively with Indigenous archival materials, including oral histories, cultural artifacts, official texts and records, and research protocols and responsibilities. Introductory courses, such as assistant professor of history Andrew Lipman's Early America to 1763, and advanced seminars, like associate professor of American art history Elizabeth Hutchinson's Native American Art, are a sample of curricular offerings that will guide students through the history behind struggles over access to economic or natural resources, political rights, social status, and cultural expression.
"Students will learn the distinct theories and methods that shape research on Indigenous histories," said Karuka. "With geographic information system [GIS] mapping tools, in relation to traditions and politics of Indigenous cartography, NAIS students will engage in quantitative and deductive reasoning as they consider both the use of digital and computing technologies in the service of Indigenous digital futures."
Supporting Digital Repatriation 
Barnard began the technical process of working with Indigenous artifacts when it hosted the Picuris Pueblo Youth Council 3D scanning workshop on October 8, on Columbia's campus. The workshop's scanning technology offered the tribal nation access to rich digital replicas of Picuris artifacts. 
The delegation's visit was made possible as a result of the collaborative research relationship that Severin Fowles, chair of American studies and associate professor of anthropology, has been building with the tribe since 2018, when he was invited to bring Barnard students to Picuris, in northern New Mexico, to help document ancestral archaeological sites on behalf of the tribe.
An Undeniable Passion for the Project
The excitement for the new program was on full display at a recent program planning meeting hosted by CCIS. In speaking about the new program to a room packed with interested faculty and students, Africana studies chair and professor of Africana studies and history Celia Naylor stressed the value of a program with a central focus on Indigeneity. "[With NAIS,] it's about not only within what is now referred to as the United States, but also about thinking globally," said Naylor.
"I'm curious to see how the [NAIS] minor will spread into and [intersect with] other departments that are part of the Consortium," said Kristen Santarin '25, who attended the meeting.
Jennie Kassanoff, Adolph S. and Effie Ochs Professor of American Studies and History, and Rebecca Jordan-Young, Ann Whitney Olin Professor and chair of the Women's, Gender, and Sexuality Studies Department, informed students that the core group of faculty members at Barnard and Columbia who were instrumental in creating NAIS will remain involved to help the program grow. 
"One of the exciting things about this new concentration is that it comes at a moment when there's a significant number of faculty members [at the College] who are working in Indigenous studies," said Kassanoff. "There's a constellation of people in dialogue with each other, and that's where this concentration and minor comes from. It's an exciting moment."